Car Sticker Removal - Sign Writing Removal
We provide a professional car sticker removal service that comes to you across Auckland, saving you time and many tedious hours wasted trying to remove old vinyl stickers and vehicle graphics from your car or fleet.
If you've attempted car sticker removal in the past, you'll know it can be a labourious task, and if done incorrectly, can leave nasty scratches in your vehicle's paint. In our view, it just simply isn't worth the risk trying to do this on your own unless you have experience and the right tools / products to safely remove them.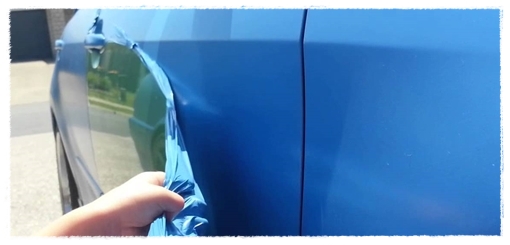 Once the graphics have been removed, you will likely be able to see a contrast in paint colouring between the area that had stickers and the area without. This is due to the uncovered areas being exposed to the sun and elements for a decent period of time. We highly recommend all sign writing removal be followed up with our cut and polish service to even out the contrasting colours and remove any fine scratches in the paint.
How much does it cost for car sticker removal?
The price will vary depending on how much sign writing needs removing, how difficult the vinyl is to remove, and ultimately how long the job will take. Because of these variables, we offer this service at $89 +gst p/hour. However, there is a minimum charge of $199 +gst to cover the cost and time of traveling across Auckland - which covers the first hour of work as well. Each hour after this is charged accordingly.
Why are some vehicle graphics harder to remove than others?
There are different types of sign writing that use varying adhesives – some are stronger than others. Also, the length of time vehicle graphics have been attached to the surface can affect how difficult it might be to remove them. And of course, the sun here in NZ can be fierce, baking graphics, making them brittle so that when it comes time to remove them, they break up into small pieces instead of peeling off in larger lengths. Again, this is why we only provide this service at an hourly rate, as we cannot possibly know how long each job will take.
How long will the job take?
Smaller jobs might clean up easily within an hour. Larger, more stubborn jobs could take many hours. Typically, a 4 door sedan with graphics over two door panels either side, and a little on the boot, can be done in 2 - 3 hours all going well. However, we don't attempt to predict how long each job will take. To offer you comfort, we work as fast as we can to get the job done in the best possible time without dragging it out unnecessarily.
Pricing
Minimum charge of $199 +gst covers callout and the first hour. $89 + gst p/hour thereafter.
IMPORTANT: When removing vinyl graphics from bumpers there is a risk that patches of paint can pull off with the adhesive. While we do our best to avoid this, there are times when this is unavoidable. We carry a range of automotive paint that we can use to touch it up if this happens.
Home

›
Other Car Services
› Car Sticker Removal
Check our work on Facebook & join our growing community of fans and customers